Well that's a good surprise
I currently own 2 backpacks from Lowepro. And each of them has its own advantages and weaknesses.
I needed a backpack that would merge all the advantages of my 2 previous ones in a lighter package.
Well this KF13.096 nailed it, to say the least.
With its very unique design on the market, you get a compact sized solution with many options for loading photography gear.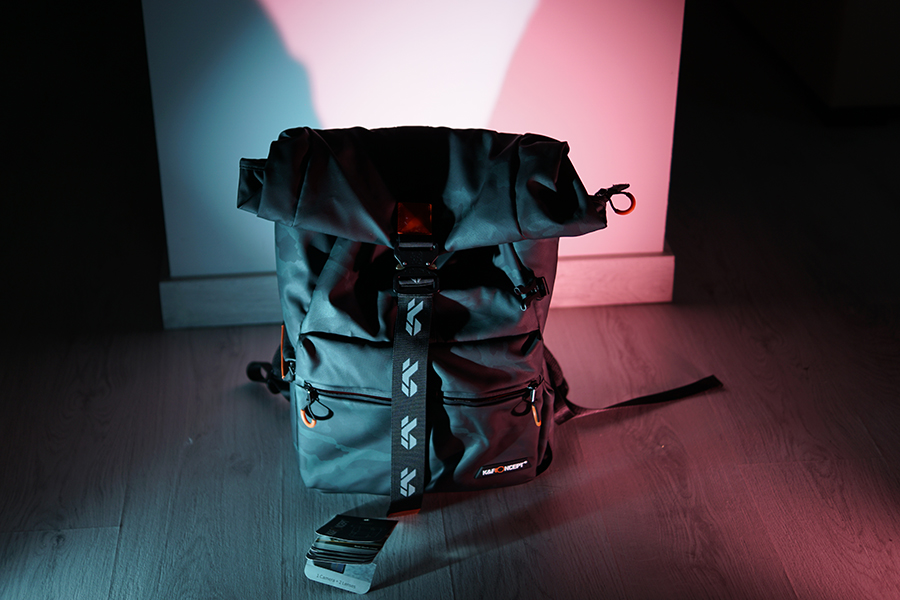 The design of the backpack comes with the orange signature of the brand K&F Concept, very fancy.
The material used is weather-sealed. This is a good point when we're out there in the wild.
In my own experience, a good backpack should check the following marks:
2 shoulder straps
hips or waist strap
comfortable pads on the back
Ability to store the tripod on the of the backpack
Ability to store a laptop
Easy access to the main camera
Ability to store clothes
Weather sealed
Theft sealed
Let's review all those points in details for this KF13.096
Definitely it is a comfy 2 shoulder straps backpack with waist strap.
One of my Lowepro backpack is a one sling shoulder strap. And I can't emphasis how annoying this is when hicking on the long run. It balances very poorly and never stays at the level of my back. With its 2 shoulder straps, this KF13.096 is always in place and never in my way.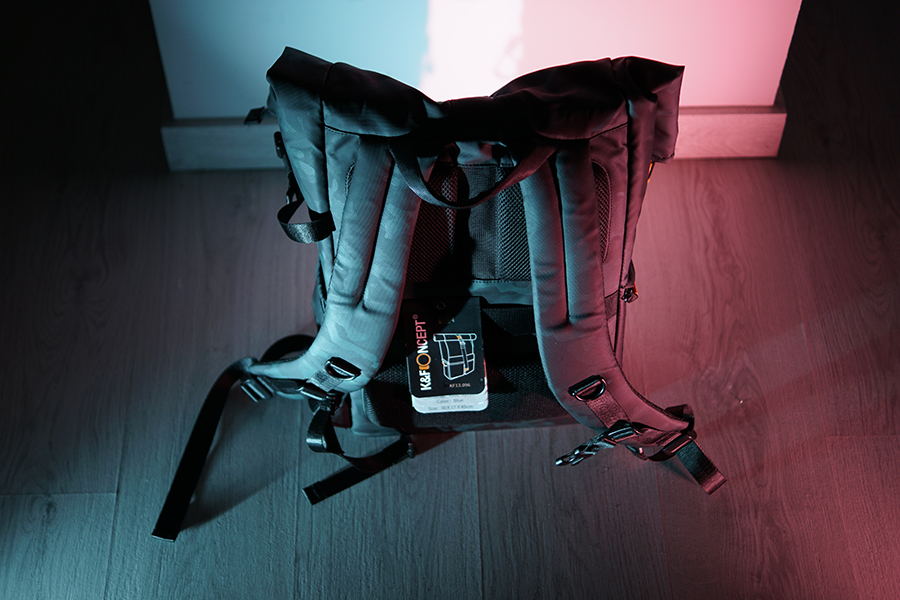 Tripod compliant ? Here, this is awesome. This backpack is not allowing you to attach your travel tripod to it, it will allow you to attach TWO travel tripods to it.
Indeed thanks to the fact that we can extend or collapse the main body of the backpack, It is possible to have your first tripod in the pouch on the side outside, and a second travel tripod wrapped-in. I tried it and just love the ability to hike in the city with 2 tripods so easily.
The backpack provides a slot in the main compartment at the level of the back to store my laptop. so kudos for that.
But the real innovation comes from the quick access compartment. It operates like you would open a drawer. It has enough room for a main camera with its lens attached, plus another spare lens.
I am putting here my full frame DSLR camera with its trans-standard zoom 28-75/2.8 attached, and as a spare I'm able to put an ultra wide angle lens. Pretty cool ????
The main compartment of the backpack is large enough to add drone, microphones, filters and clothes, and your laptop in the slot.
I have to say that for a backpack that is aimed at carrying mainly tripod + 1 camera + 2 lenses, it finally is up to more than that. And That's very welcomed.
As I already said the material used is weather sealed but if for any reason, one would need more sealing, well it is coming with a weather sealing cover.
This is covering the whole backpack until your back. I dont think I have ever seen such a thing in term of protection.
Talking about protection I would have hoped that K&F Concept provided some lockers for the zip of the pouches in the front of the bag.
Indeed in a crowded place, those pockets could easily been stolen, so be sure to put your very own lockers on them, or the weather sealing cover as a workaround.
All in all and considering its price point, this KF13.096 is a very good backpack and helps traveller to focus on the essential to bring with them. And I really loves that philosophy.
Don't forget to subscribe to my Youtube channel to get more insights on photography gear and tips